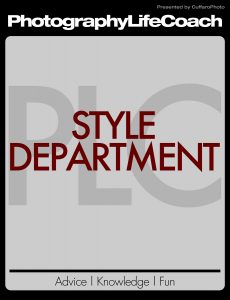 What is the style department???  It's your make-up artist, hair stylist and clothing stylist.  It's your team of creatives that make you and your talent look good.  I was told a long time ago… if you surround yourself with the best you will be the best!  I heard that loud and clear!!!  I've always worked with the best style people I could get.  I've been blessed to work with some of the best of the best!  Legends in make-up, hair and styling.
Some basic advice when working with your style department… Communication is everything.  It's not always about you.  Sometimes you need to trust them and let them do what they love.  Experiment when you can.  Maybe at the end of the shoot try something fun!  You never know what comes from a little fun.  I've said this before and I will say it again… manners!!!  Treat your team with respect and they will work hard for you.  Last… watch and listen!!!  If you listen you will learn.  I know more about style than I want to know just because I asked questions and listened!
When hiring a team ask what they get paid and respect them.  If they are too expensive for your budget, see if they will do the work anyways, but be nice about it.  One thing that worked for me when asking for deals was to pay cash.  That helps a lot with all crew members.
Last… I used to look through magazines for idea on style.  It's a great way to fill your head with images and ideas.  Bring the tear sheets to the team and see what they think.  Let them be inspired and do what the feel will work.  This work is all about creativity and you need to let them create just like you want to.  Make sense?