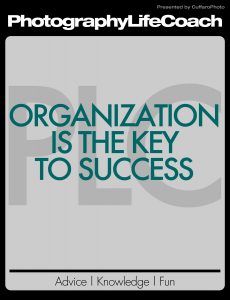 I'm a organization fanatic.  Ever since I was a kid I like being organized.  I can't work if I'm not organized.  I'm not OCD at all.  I just like being organized.  I feel it helps be keep track of everything and I get more done.  Here's some basic thoughts on how to be organized…
Color – color coding is key!

 

I use color coding for everything!
BusyCal – my favorite Mac app for keeping track of my life.
Shot List – I also have a basic list of ideas that I want to do before every shoot no matter how big or small.

 

Gotta have a plan.
Alphabetize – Duh!

 

This is the easy one.
Be Prepared – Plan ahead and preproduction is key for everything shoot.
Labels – I label everything that needs a label.

 

This way I know what it is for and why I have it.
NeoFinder – A great Mac App that I use to catalog ALL my hard drives.
Plastic Boxes – Great for storage and they're see-thru so you can see what you have.
Yellow Notepads – I have them in every room next to every computer.

 

I use them for ideas, notes, plans and just about everything.
3×5 Cards – I live and breathe my 3×5 cards.

 

I used them everyday for my daily To-Do lists.

 

They also are great for jotting down ideas & goals.